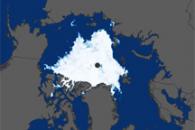 Credit:

NASA maps by Jesse Allen, based on AMSR-E data from NSIDC. Caption by Rebecca Lindsey.
Note: Often times, due to the size, browsers have a difficult time opening and displaying images. If you experiece an error when clicking on an image link, please try directly downloading the image (using a right click, save as method) to view it locally.
This image originally appeared on the Earth Observatory. Click here to view the full, original record.
Metadata
Data Date:

September 4, 2008 - February 28, 2009

Visualization Date:

April 20, 2009

Sensor(s):

Aqua - AMSR-E