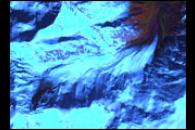 Credit:

NASA Earth Observatory images Jesse Allen, using data provided courtesy of the Landsat Project Science Office and the USGS Earth Resources Data Center. Image analysis and story provided by Olga Tutubalina, Sergey Chernomorets and Dmitry Petrakov from the Moscow State University and the University Centre for Engineering Geodynamics and Monitoring. The scientists examined the new data along with a large archive of ground, and aerial imagery, as well as with their experience of ten field trips to the area both before and after the collapse.
Note: Often times, due to the size, browsers have a difficult time opening and displaying images. If you experiece an error when clicking on an image link, please try directly downloading the image (using a right click, save as method) to view it locally.
This image originally appeared on the Earth Observatory. Click here to view the full, original record.