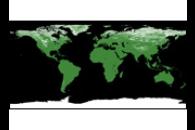 Credit:

MODIS imagery courtesy of the MODIS Land, Atmosphere, and Ocean Science Teams. Special thanks to Reto Stockli and Norman Kuring for their assistance. NEO architecture and development by Kevin Ward.
Note: Often times, due to the size, browsers have a difficult time opening and displaying images. If you experiece an error when clicking on an image link, please try directly downloading the image (using a right click, save as method) to view it locally.
This image originally appeared on the Earth Observatory. Click here to view the full, original record.