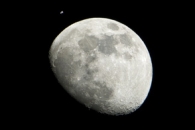 Credit:

Photograph JSC2012-E-17827 was acquired on January 4, 2012, with a tripod-mounted Nikon D3S digital camera using an effective 1200 mm lens (600 mm lens and doubler), and is provided by NASA Johnson Space Center. The image was taken by photographer Lauren Hartnett, and has been cropped and enhanced to improve contrast and remove lens artifacts. Caption by William L. Stefanov, Jacobs Technology/ESCG at NASA-JSC.
Note: Often times, due to the size, browsers have a difficult time opening and displaying images. If you experiece an error when clicking on an image link, please try directly downloading the image (using a right click, save as method) to view it locally.
This image originally appeared on the Earth Observatory. Click here to view the full, original record.
Metadata
Data Date:

January 4, 2012

Visualization Date:

January 13, 2012

Sensor(s):

Photograph

Categories