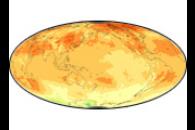 Credit:

NASA image created by Jesse Allen, using data provided courtesy of Remote Sensing Systems. Caption information courtesy Carl Mears, Remote Sensing Systems, and Paul Newman and Joel Susskind NASA Goddard Space Flight Center.
Note: Often times, due to the size, browsers have a difficult time opening and displaying images. If you experiece an error when clicking on an image link, please try directly downloading the image (using a right click, save as method) to view it locally.
This image originally appeared on the Earth Observatory. Click here to view the full, original record.