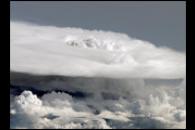 Credit:

Astronaut photograph ISS016-E-27426 was acquired on February 5, 2008, with a Kodak 760C digital camera fitted with an 400 mm lens, and is provided by the ISS Crew Earth Observations experiment. The images were taken by the Expedition 16 crew, and are provided by the Image Science & Analysis Laboratory, Johnson Space Center. The images in this article have been cropped and enhanced to improve contrast. Lens artifacts have been removed. The International Space Station Program supports the laboratory to help astronauts take pictures of Earth that will be of the greatest value to scientists and the public, and to make those images freely available on the Internet. Additional images taken by astronauts and cosmonauts can be viewed at the NASA/JSC Gateway to Astronaut Photography of Earth. Caption by William L. Stefanov, NASA-JSC.
Note: Often times, due to the size, browsers have a difficult time opening and displaying images. If you experiece an error when clicking on an image link, please try directly downloading the image (using a right click, save as method) to view it locally.
This image originally appeared on the Earth Observatory. Click here to view the full, original record.
Metadata
Data Date:

February 5, 2008

Visualization Date:

March 10, 2008

Sensor(s):

ISS - Digital Camera

Categories